From us...
Whitsundays Guide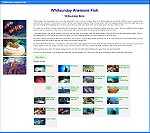 Did you know Sailing-Whitsundays has the most comprehensive online Guide to the Whitsundays ?
Sailing Whitsundays goes mobile
The best guide to the Whitsundays has launched a new mobile version for your iPhone or Android phone. So you can see the best Whitsunday holidays while youre traveling. Next time you surf this site on your mobile phone, youll view it in all its mobile glory!
Whitehaven Beach





There are many ways to get to Whitehaven Beach and getting there can be half the fun! From sea planes and helicopters to day tours and overnight boat trips, you have a variety of options to create your ultimate Whitehaven experience. Learn more...

The sand is minute powder-size grains of quartz and has been assayed at 99.89% pure, well above the minimum requirement for glass-making and suitable for the finest glass for optical lenses for binoculars etc. Its origin is not known definitely but geologists say it does not have a local origin as rocks of the Whitsunday area are quartz-poor. They think the most likely explanation is that it is the result of a longshore drift system which brings sand from the south along the Queensland coast, very evident in the Gold Coast/Fraser Island area. The Whitehaven sand is so pure it indicates that during the drift all heavy mineral sands and other impurities have been winnowed out leaving the quartz sand. Probably there is an eddy effect in Whitehaven Bay which causes the sand to drop out and accumulate there.

Feeling the powder fine sand beneath your feet and swimming in turquoise waters while this 3D postcard stretches before you is an unforgettable sensation. Known affectionately as 'The Beach', Whitehaven Beach is the epitome of paradise found. The sand is so refined that you can polish your jewelery, ex foliate your skin and perhaps give your teeth a nice scrub!



Just recently renovated, Hill Inlet Look-out offers you the most spectacular view of Whitehaven Beach as well as historical and wildlife information on display. A few hundred metres above sea level, you are able to capture post-card worthy photos.

A natural bush track leads you on a gentle 15 minute walk up to this destination that so many people rave about. What you can see is the full view up peaceful Hill Inlet, a stunning inlet were tidal movements shift acres of pure white sand to create a fusion of beautiful azure blues. Whilst viewing the inlet your eyes are also swept towards the 7 kilometers of stunning white silica sands. Access is only by boat with most vessels choosing to anchor in Tongue bay and enjoying the pretty bush walk up the northern face of Whitsunday Island.



There are many ways that you can get to Whitehaven Beach and even more ways to experience it! Choose from a variety of tours and activities...

If you have more than one day to spend in the Whitsundays, it is definitely worth considering hopping on an overnight boat tour! The 74 islands offer so many different places to visit and activities to do. Simply put, the best way of getting to those destinations is by boat. Most charters here in the Whitsundays visit Whitehaven Beach at some stage throughout their trip, but also give you the chance to visit other hidden beauties...

Blue Pearl Bay: one of the most visited dive/snorkel sites due to its abundant marine life, diverse coral structures and residential Napoleon Maori Wrasse 'Elvis'


Langford Spit: a breathtaking stretch of sand that is perfect for taking a romantic stroll or watching the sunset. Langford reef is a beautiful fringing reef starting a mere meters from the spit, well-known for turtle spotting


Narra Inlet: a well protected inlet that is enriched with Aboriginal history through the form of cave carvings that you can visit. During the summer, the inlet is full of large beautiful waterfalls
Luncheon Bay: a very popular spot for snorkellers and first time divers. The beach that leads straight into a spectacular reef system offers a comfortable spot for divers to learn and gain confidence before getting into deeper water

These are only a few of the many destinations boat tours have to choose from. Don't miss out on these amazing hot-spots in addition to your Whitehaven Beach visit. With so many boat tours to choose from to suit all lifestyles and budgets, you are sure to find the perfect one for you... Check out the top sellers here

Sailing Whitsundays Boat Tours

Whitehaven Beach, regarded as Queensland's Most Beautiful Beach and one of the top 10 beaches in the world, is an absolute must-see destination! What makes Whitehaven Beach so unique from any other beach in the world is its pristine white sands, made up of 98% pure silica, that stretch for nearly seven kilometers.

At the northern end of Whitehaven Beach you will find Hill Inlet, a stunning cove where the tide shifts the sand and water to create a beautiful fusion of colours. As the tide shifts, the white silica sand and turquoise shades of the inlet blend seamlessly to create a breathtaking view of swirling Whitsunday colours.

As soon as you sink your feet into the soft sand and see it sided up to the crystal clear waters, you will feel like you have found a heaven on earth! Take what seems to be an endless stroll along the flawless waterline, soak up the sun while reading your favourite book, sit under a tropical palm or play a game of ball on the beach with others... there are so many ways to enjoy this spectacular beach and create an unforgettable experience.

There are many ways to get to Whitehaven Beach and getting there can be half the fun! From sea planes and helicopters to day tours and overnight boat trips, you have a variety of options to create your ultimate Whitehaven experience. Learn more...









| | |
| --- | --- |
| | OUR BOATING EXPERTS READY TO HELP YOU |
| | Based in Airlie Beach |
| | Can answer all your boat questions |
| | Our experts are all experienced locals |
| | We will build you exclusive packages to save you money |
| | Whitsundays biggest boat cooperative |
| | 提供廣東話及普通話翻譯服務的旅遊顧問 |
| | 提供广东话及普通话翻译服务的旅游顾问 |






Apr 2015

Grand plans for Whitsundays Lindeman Island

CHINESE investors White Horse (Australia) Holdings Pty Ltd have announced bold new plans for Lindeman Island.

Apr 2015

Spirit to march on in Whitsundays

RECORD crowds are expected for this Saturdays Anzac centenary, especially the dawn services and marches in Proserpine and Airlie Beach.

Apr 2015

Whitsundays luring more domestic, international tourists

New figures show a steady rise in the number of domestic and international visitors to the Whitsundays in north Queensland.

Apr 2015

Airlie Beach Chamber of Commerce hits 100

THE Airlie Beach Chamber of Commerce has welcomed its 100th member, well ahead of their end-of-year goal.

Apr 2015

Report sightings to help Whitsundays koalas

OUR wildlife is an important part of what makes the Whitsundays such a magical place, but increasing habitation is having an impact on the health of our little critters.

Apr 2015

National honour for Cruise Whitsundays

CRUISE Whitsundays has come home from the Australian Tourism Awards in Adelaide with a bronze award.