From us...
Whitsundays Guide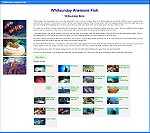 Did you know Sailing-Whitsundays has the most comprehensive online Guide to the Whitsundays ?
Sailing Whitsundays goes mobile
The best guide to the Whitsundays has launched a new mobile version for your iPhone or Android phone. So you can see the best Whitsunday holidays while youre traveling. Next time you surf this site on your mobile phone, youll view it in all its mobile glory!
| | | | |
| --- | --- | --- | --- |
| | Sailing the Whitsundays | | |
Dec 2013
Shooting the Breeze in the Whitsundays
Our Whitehaven Beach is considered to be the jewel in the crown of the Whitsundays. Whitehaven beach is regularly at the top or very near the top of the list for the worlds best beaches.
Dec 2013
The real thing in the states untouched far North
The gloom of the post-Global Financial Crisis years has given way to a bold new era of adventurous entrepreneurs and ambitious projects.
Nov 2013
Tiger Airways to launch budget flight from Sydney to Proserpine
Tigerair Australia commercial director Carly Brear said the airline expected the Proserpine flights to be particularly popular with budget travellers. Direct Flights from Sydney to the Whitsundays begin on April 1st next year.
Nov 2013
The push continues to protect our Great Barrier Reef
The community is behind our local businesses getting together to protect our reef from dredge spoil