From us...
Whitsundays Guide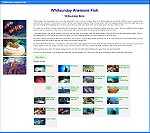 Did you know Sailing-Whitsundays has the most comprehensive online Guide to the Whitsundays ?
Sailing Whitsundays goes mobile
The best guide to the Whitsundays has launched a new mobile version for your iPhone or Android phone. So you can see the best Whitsunday holidays while youre traveling. Next time you surf this site on your mobile phone, youll view it in all its mobile glory!
ECO Certification

WHITSUNDAYS INFO

What is the Eco Certification Program? The ECO Certification logo is a globally recognized brand which assists travelers to choose and experience a genuine and authentic tour, attraction, cruise or accommodation that is environmentally, socially and economically sustainable. The ECO Certification program assures travelers that certified products are backed by a strong, well managed commitment to sustainable practices and provides high quality nature-based tourism experiences. The ECO Certification Program is a world first. It has been developed to address the need to identify genuine nature and eco tourism operators. It is also now being exported to the rest of the world as the International ECO Certification Program. When choosing your boat tour it is reassuring to know that many Whitsunday Operators have gone to the trouble of ensuring that their vessel is operated within the guidelines of the Eco Certification program. The definition of eco tourism adopted by Ecotourism Australia is: Ecotourism is ecologically sustainable tourism with a primary focus on experiencing natural areas that fosters environmental and cultural understanding, appreciation and conservation. The 3 levels of ECO Certification are: Nature Tourism: Tourism in a natural area that leaves minimal impact on the environment. Ecotourism: Tourism in a natural area that offers interesting ways to learn about the environment with an operator that uses resources wisely, contributes to the conservation of the environment and helps local communities. Advanced Ecotourism: Australia's leading and most innovative ecotourism products, providing an opportunity to learn about the environment with an operator who is committed to achieving best practice when using resources wisely, contributing to the conservation of the environment and helping local communities.

The Whitsunday Islands are one big protected Australian National Park, this is why they are such a beautiful place to visit. The best way to visit this vast National Park is aboard an Eco Accredited overnight Sailing vessel.

Related articles...



| | |
| --- | --- |
| | OUR BOATING EXPERTS READY TO HELP YOU |
| | Based in Airlie Beach |
| | Can answer all your boat questions |
| | Our experts are all experienced locals |
| | We will build you exclusive packages to save you money |
| | Whitsundays biggest boat cooperative |
| | 提供廣東話及普通話翻譯服務的旅遊顧問 |
| | 提供广东话及普通话翻译服务的旅游顾问 |






Apr 2015

Airlie Beach Chamber of Commerce hits 100

THE Airlie Beach Chamber of Commerce has welcomed its 100th member, well ahead of their end-of-year goal.

Apr 2015

Report sightings to help Whitsundays koalas

OUR wildlife is an important part of what makes the Whitsundays such a magical place, but increasing habitation is having an impact on the health of our little critters.

Apr 2015

National honour for Cruise Whitsundays

CRUISE Whitsundays has come home from the Australian Tourism Awards in Adelaide with a bronze award.

Apr 2015

Morgan cares for wild Africa

A YOUNG woman raised on the Whitsunday waters will soon hit the nations television screens for the part she is playing in caring for rhinoceroses in the wilds of Africa.

Apr 2015

Romantic Whitsundays getaway leads to a big Yes

A BRITISH tourist had the ultimate weekend of romantic surprises, culminating in a marriage proposal at Reefworld recently.

Apr 2015

Go on an adventure at Whitsunday Writers Festival

ADVENTURE is the theme of this years Whitsunday Writers Festival, with two of the nations most inspirational authors now booked to share their incredible tales.