From us...
Whitsundays Guide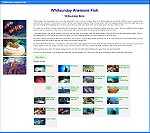 Did you know Sailing-Whitsundays has the most comprehensive online Guide to the Whitsundays ?
Sailing Whitsundays goes mobile
The best guide to the Whitsundays has launched a new mobile version for your iPhone or Android phone. So you can see the best Whitsunday holidays while youre traveling. Next time you surf this site on your mobile phone, youll view it in all its mobile glory!



ECO Certification

WHITSUNDAYS INFO

What is the Eco Certification Program? The ECO Certification logo is a globally recognized brand which assists travelers to choose and experience a genuine and authentic tour, attraction, cruise or accommodation that is environmentally, socially and economically sustainable. The ECO Certification program assures travelers that certified products are backed by a strong, well managed commitment to sustainable practices and provides high quality nature-based tourism experiences. The ECO Certification Program is a world first. It has been developed to address the need to identify genuine nature and eco tourism operators. It is also now being exported to the rest of the world as the International ECO Certification Program. When choosing your boat tour it is reassuring to know that many Whitsunday Operators have gone to the trouble of ensuring that their vessel is operated within the guidelines of the Eco Certification program. The definition of eco tourism adopted by Ecotourism Australia is: Ecotourism is ecologically sustainable tourism with a primary focus on experiencing natural areas that fosters environmental and cultural understanding, appreciation and conservation. The 3 levels of ECO Certification are: Nature Tourism: Tourism in a natural area that leaves minimal impact on the environment. Ecotourism: Tourism in a natural area that offers interesting ways to learn about the environment with an operator that uses resources wisely, contributes to the conservation of the environment and helps local communities. Advanced Ecotourism: Australia's leading and most innovative ecotourism products, providing an opportunity to learn about the environment with an operator who is committed to achieving best practice when using resources wisely, contributing to the conservation of the environment and helping local communities.

The Whitsunday Islands are one big protected Australian National Park, this is why they are such a beautiful place to visit. The best way to visit this vast National Park is aboard an Eco Accredited overnight Sailing vessel.

Related articles...



| | |
| --- | --- |
| | OUR BOATING EXPERTS READY TO HELP YOU |
| | Based in Airlie Beach |
| | Can answer all your boat questions |
| | Our experts are all experienced locals |
| | We will build you exclusive packages to save you money |
| | Whitsundays biggest boat cooperative |
| | 提供廣東話及普通話翻譯服務的旅遊顧問 |
| | 提供广东话及普通话翻译服务的旅游顾问 |






Sep 2014

Abbot Point dredge spoil will not be dumped on reef

DUE to changes to already approved plans to further develop the Abbot Point Coal Terminal the plan to dump dredged material onto the Great Barrier Reef will be halted.

Sep 2014

Whitsunday Coast Airport forecast for best year yet

THE Whitsunday Coast Airport is set to achieve its best result on record in the 2014-15 financial year with passenger numbers forecast to be their highest yet.

Aug 2014

One of the Whitsundays' biggest events - The 2014 Shag Islet Crusing Yacht Club (SICYC) annual rendezvous!

TODAY'S the day - the start of the 2014 Shag Islet Crusing Yacht Club (SICYC) annual rendezvous. One of the Whitsundays' biggest events - on and off the water, this year's event is set to host more than 200 boats and 1000 people.

Aug 2014

Good News for Whitsunday Tourism Operators!

POLITICIANS don't often admit their mistakes, but this week, Federal Member for Dawson, George Christensen, has done just that, apologising to Whitsunday tourism operators and residents for his former stance on the sea disposal of dredge spoil from the port of Abbot Point.