From us...
Whitsundays Guide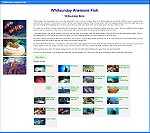 Did you know Sailing-Whitsundays has the most comprehensive online Guide to the Whitsundays ?
Sailing Whitsundays goes mobile
The best guide to the Whitsundays has launched a new mobile version for your iPhone or Android phone. So you can see the best Whitsunday holidays while youre traveling. Next time you surf this site on your mobile phone, youll view it in all its mobile glory!



Sea Eagles

WHITSUNDAYS BIRDLIFE

A White Bellied Fish Eagle grows to a 2 meter wingspan and can stand nearly one meter in height A truly majestic raptor!. A famous Whitsunday local sea bird that is the adopted name of our local football team The Whitsunday Sea Eagles. If you are in the Whitsundays in winter you may be lucky enough to catch a local game of Aussie rules Football. The sea eagle catches its prey when it comes close enough to the surface of the sea seized with its talons without getting wet. These birds are noticeable by their white head, white rump and under parts and dark grey on the back and wings. In flight the black flight feathers on the wings are easily seen when the bird is viewed from below. The large, hooked bill is grey with a darker tip, and the eye is dark brown. The legs and feet are cream-white, with long black talons (claws). Young Sea-eagles are brown , taking them 4 years to gain the beautiful plumage of their parents. To many people these are their favorite local Bird so impressive to watch hunting and soaring majestically thought the skys. Sea Eagle make large nests in trees or on coastal cliffs. The White-Bellied Sea-Eagle feeds mainly off aquatic animals, such as fish, turtles and sea snakes, but it takes birds and mammals as well. It is a skilled hunter, and will attack prey up to the size of a swan. They will harass smaller birds like Ospreys, forcing them to drop any food that they are carrying. Sea-eagles feed alone, in pairs or in family groups. Local research had found that in the Whitsundays there are approx 40 breeding pairs of Sea Eagles, with one on each island as the birds are very territorial with protecting their feeding grounds. except for Whitsunday Island which is large enough to support two breeding pairs.

Related articles...



| | |
| --- | --- |
| | OUR BOATING EXPERTS READY TO HELP YOU |
| | Based in Airlie Beach |
| | Can answer all your boat questions |
| | Our experts are all experienced locals |
| | We will build you exclusive packages to save you money |
| | Whitsundays biggest boat cooperative |






Apr 2014

Starring role for Whitsudays in new food and wine campaign

SEAFOOD, fresh local produce and the spectacular scenery of the Whitsundays are set to play a starring role in Tourism Australia's latest tourism push, which has just wrapped up filming on Hamilton Island.

Apr 2014

Whitsunday music lovers preparing for Wintermoon

WHITSUNDAY followers of the iconic Wintermoon Festival will be proud to hear that its fame is spreading around the nation and in fact far beyond Australia's shores.

Apr 2014

Whitsundays: Almost all booked out for Easter holidays

THE Whitsundays are preparing for a busy Easter period with solid bookings recorded across the region.

Apr 2014

Sun is shining in the Whitsundays

WEATHER UPDATE: The sun is shining in the Whitsundays today after Cyclone Ita passed the region last night.