From us...
Whitsundays Guide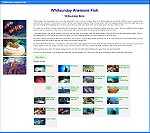 Did you know Sailing-Whitsundays has the most comprehensive online Guide to the Whitsundays ?
Sailing Whitsundays goes mobile
The best guide to the Whitsundays has launched a new mobile version for your iPhone or Android phone. So you can see the best Whitsunday holidays while youre traveling. Next time you surf this site on your mobile phone, youll view it in all its mobile glory!
Sailing Whitsunday Packages

FAQS

Did you know that booking a package is the most cost effective way of planning a holiday?

Organizing a holiday can be an exciting and enjoyable process... however, sometimes it can be stressful and, in the end, quite costly! As Travel Experts here at Sailing Whitsundays, we have done all the research, reviewing, and bargaining for you. With over 10 years experience in the Tourism Industry, we have taken all our clients feedback, revised itineraries and added in new features to bring to you the most updated and affordable packages on the East Coast of Australia!

We realize that everyone has their own visions, expectations and needs when it comes to arranging holidays. That is why our professional team have put together a variety of packages to suit all types of individuals... including you! Find out what our packages have to offer and ask our experts which package they feel would be best suited for you. The majority of our packages are as flexible as you need them to be and in some cases we may be able to offer you additional discounts, upgrades or freebies! Dont stress about what you have to plan next; plan ahead with one of our flexible packages and then kick back and enjoy your exciting adventures.

Choose from our great list of Packages

BUDGET PACKAGES - valid till 30/3/15



| | | | | |
| --- | --- | --- | --- | --- |
| | | | | |

Freecall within Australia 1800 550 751