From us...
Whitsundays Guide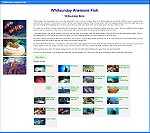 Did you know Sailing-Whitsundays has the most comprehensive online Guide to the Whitsundays ?
Sailing Whitsundays goes mobile
The best guide to the Whitsundays has launched a new mobile version for your iPhone or Android phone. So you can see the best Whitsunday holidays while youre traveling. Next time you surf this site on your mobile phone, youll view it in all its mobile glory!



What do all the ticks mean?

WHITSUNDAYS INFO

RED TICK

The WCBIA (Whitsunday Charter Boat Industry Association) is an active Whitsundays association that grades boats according to a VRS (Vessel Rating System). The numbers used are not released to the public, but if an operator's boat is not up to the regulations set down by the WCBIA committee, then its possible that the boat or boats will not be allowed to remain members of the WCBIA; thus, lose their tick

Many years back, the Whitsundays boat owners got together to form an association that listed a new set of rules of minimum standards for all operators to follow. Those that used misleading advertising or ran faulty old boats were asked to comply or they would be unable to use the tick status. Ten years later, the WCBIA remains the premium Whitsunday organization that helps keep the standards high across the fleets. Always look for boats that are WCBIA members (advertise a red tick) and you be confident there is a governing body that cares about the quality of your sailing holiday!

YELLOW TICK

The definition Ecotourism is ecologically sustainable tourism with a primary focus on experiencing natural areas that fosters environmental and cultural understanding, appreciation and conservation. Eco accreditation allows tour operators the ability to sell their tours as eco friendly.

The yellow tick will become a very important factor in 2012 for vessel operators. If you do not have Eco accreditation and the yellow tick, then the Australian Government through their Department of Environmental Management will disallow access to many sensitive areas in the Whitsundays. The beautiful lookout overlooking Whitehaven beach is one of the sites that will only be accessible to vessels with Eco Accreditation.

BLUE TICK

This one is very important to travelers! The blue tick means your agent or tour operator is a member of the Government accredited travel Agency Compensation Fund, most often referred to as the TCF Fund. If your booking agent cannot show you the blue tick on their documentation, then do not book with this operator. The Blue Tick is your way of knowing that the operator has paid your money into a Government audited trust account; no running away with your money if the tour operator or agent goes broke. The TCF fund can and will give you a refund in full. Excellent peace of mind when you are booing a holiday. Here at Mr Travel we are registered Travel Agents and all funds are kept in audited bank trust accounts.

GREEN TICK

The green tick is for TQUAl accreditation. This represents the new national Tourism Accreditation Framework developed by the Australian Government and industry to promote quality experiences for travelers and consumers by recognizing sustainable and capable high quality operators. All boats that have earned the Australian Eco tourism tick automatically receive the new T qual tick

The BOTTOM LINE, Pick the TICK.

Related articles...



| | |
| --- | --- |
| | OUR BOATING EXPERTS READY TO HELP YOU |
| | Based in Airlie Beach |
| | Can answer all your boat questions |
| | Our experts are all experienced locals |
| | We will build you exclusive packages to save you money |
| | Whitsundays biggest boat cooperative |






Jul 2014

Sailor girl coming to Airlie Beach

THE girl who is best known through online channels as 'Adventures of a Sailor Girl', will be taking on another adventure when she attends the upcoming Vision Surveys Airlie Beach Race Week.

Jul 2014

A chance to insta-boost your Whitsunday business

INSTAGRAM users of the Whitsundays are called to unite next Tuesday for a free Instagram workshop and insta-meet at Coral Sea Resort from 2pm.

Jul 2014

New Zealand boat makes a century for Airlie Race Week

NEW Zealand boat Bullrush is the 100th entry to this year's Vision Surveys 25th Airlie Beach Race Week, from August 8-15.

Jul 2014

Hamilton Island withdraws from America's Cup

THE Hamilton Island Yacht Club (HIYC) has officially withdrawn as the challenger of record for the 35th America's Cup, citing costs of competing as the reason for their decision.