From us...
Whitsundays Guide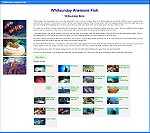 Did you know Sailing-Whitsundays has the most comprehensive online Guide to the Whitsundays ?
Sailing Whitsundays goes mobile
The best guide to the Whitsundays has launched a new mobile version for your iPhone or Android phone. So you can see the best Whitsunday holidays while youre traveling. Next time you surf this site on your mobile phone, youll view it in all its mobile glory!
What do all the ticks mean?

WHITSUNDAYS INFO

RED TICK

The WCBIA (Whitsunday Charter Boat Industry Association) is an active Whitsundays association that grades boats according to a VRS (Vessel Rating System). The numbers used are not released to the public, but if an operator's boat is not up to the regulations set down by the WCBIA committee, then its possible that the boat or boats will not be allowed to remain members of the WCBIA; thus, lose their tick

Many years back, the Whitsundays boat owners got together to form an association that listed a new set of rules of minimum standards for all operators to follow. Those that used misleading advertising or ran faulty old boats were asked to comply or they would be unable to use the tick status. Ten years later, the WCBIA remains the premium Whitsunday organization that helps keep the standards high across the fleets. Always look for boats that are WCBIA members (advertise a red tick) and you be confident there is a governing body that cares about the quality of your sailing holiday!

YELLOW TICK

The definition Ecotourism is ecologically sustainable tourism with a primary focus on experiencing natural areas that fosters environmental and cultural understanding, appreciation and conservation. Eco accreditation allows tour operators the ability to sell their tours as eco friendly.

The yellow tick will become a very important factor in 2012 for vessel operators. If you do not have Eco accreditation and the yellow tick, then the Australian Government through their Department of Environmental Management will disallow access to many sensitive areas in the Whitsundays. The beautiful lookout overlooking Whitehaven beach is one of the sites that will only be accessible to vessels with Eco Accreditation.

BLUE TICK

This one is very important to travelers! The blue tick means your agent or tour operator is a member of the Government accredited travel Agency Compensation Fund, most often referred to as the TCF Fund. If your booking agent cannot show you the blue tick on their documentation, then do not book with this operator. The Blue Tick is your way of knowing that the operator has paid your money into a Government audited trust account; no running away with your money if the tour operator or agent goes broke. The TCF fund can and will give you a refund in full. Excellent peace of mind when you are booing a holiday. Here at Mr Travel we are registered Travel Agents and all funds are kept in audited bank trust accounts.

GREEN TICK

The green tick is for TQUAl accreditation. This represents the new national Tourism Accreditation Framework developed by the Australian Government and industry to promote quality experiences for travelers and consumers by recognizing sustainable and capable high quality operators. All boats that have earned the Australian Eco tourism tick automatically receive the new T qual tick

The BOTTOM LINE, Pick the TICK.

Related articles...



| | |
| --- | --- |
| | OUR BOATING EXPERTS READY TO HELP YOU |
| | Based in Airlie Beach |
| | Can answer all your boat questions |
| | Our experts are all experienced locals |
| | We will build you exclusive packages to save you money |
| | Whitsundays biggest boat cooperative |
| | 提供廣東話及普通話翻譯服務的旅遊顧問 |
| | 提供广东话及普通话翻译服务的旅游顾问 |






Apr 2015

Anticipation rises for Wintermoon

THE Wintermoon team is putting the finishing touches on this years festival site in anticipation of the annual influx of music lovers.

Apr 2015

Big act to hit Airlie Beach stage

AIRLIE Beach Festival of Music organiser Gavin Butto Butlin is celebrating a major win with the signing of 10cc this week.

Apr 2015

Grand plans for Whitsundays Lindeman Island

CHINESE investors White Horse (Australia) Holdings Pty Ltd have announced bold new plans for Lindeman Island.

Apr 2015

Spirit to march on in Whitsundays

RECORD crowds are expected for this Saturdays Anzac centenary, especially the dawn services and marches in Proserpine and Airlie Beach.

Apr 2015

Whitsundays luring more domestic, international tourists

New figures show a steady rise in the number of domestic and international visitors to the Whitsundays in north Queensland.

Apr 2015

Airlie Beach Chamber of Commerce hits 100

THE Airlie Beach Chamber of Commerce has welcomed its 100th member, well ahead of their end-of-year goal.