From us...
Whitsundays Guide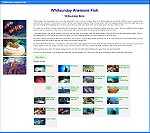 Did you know Sailing-Whitsundays has the most comprehensive online Guide to the Whitsundays ?
Sailing Whitsundays goes mobile
The best guide to the Whitsundays has launched a new mobile version for your iPhone or Android phone. So you can see the best Whitsunday holidays while youre traveling. Next time you surf this site on your mobile phone, youll view it in all its mobile glory!
Dec 2014

Free wi-fi at Whitsunday Coast Airport

FREE wi-fi will be available to everyone inside the terminal at Whitsunday Coast Airport. Mayor Jenny Whitney said she was pleased Whitsunday Regional Council was able to provide the service to passengers.

Dec 2014

Whitsunday Council donates money for NYE fireworks

WHITSUNDAY Regional Council has donated $8000 to four local events to conduct their fireworks displays.

Dec 2014

Hamilton Island launches competition to name the joey

THE first photos of Wild Life Hamilton Islands latest arrival, a female baby joey, have been released.

Dec 2014

Sweet success for the Whitsundays!

NINE Whitsunday tourism businesses were rewarded for their outstanding achievements and contribution to the Queensland tourism industry at the 2014 Queensland Tourism Awards held in Brisbane on Friday night.