From us...
Whitsundays Guide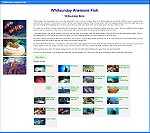 Did you know Sailing-Whitsundays has the most comprehensive online Guide to the Whitsundays ?
Sailing Whitsundays goes mobile
The best guide to the Whitsundays has launched a new mobile version for your iPhone or Android phone. So you can see the best Whitsunday holidays while youre traveling. Next time you surf this site on your mobile phone, youll view it in all its mobile glory!
Sep 2014

Daydream Island brings sexy back

A WEDDING on Daydream Island was featured on the reality television show Bringing Sexy Back on Channel Seven, Tuesday night.

Sep 2014

Great Whitsunday Fun Race

WITH a new date now set for the Great Whitsunday Fun Race on Saturday, September 13, the Whitsunday Sailing Club is throwing down the gauntlet to all boat owners in the region to take part in the historic event.

Sep 2014

Maintenance work on Airlie Beach main street

HARD hats and hi-visibility shirts have once again been a feature of the Airlie Beach main street, with maintenance repairs conducted by Whitsunday Regional Council and the original contractors Probuild Civil, throughout Monday and Tuesday this week.

Sep 2014

Attenborough returns to Great Barrier Reef for new TV series

SIR David Attenborough is returning to the Great Barrier Reef for a new BBC series, almost six decades after he first filmed there.