From us...
Whitsundays Guide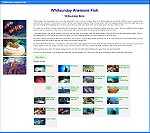 Did you know Sailing-Whitsundays has the most comprehensive online Guide to the Whitsundays ?
Sailing Whitsundays goes mobile
The best guide to the Whitsundays has launched a new mobile version for your iPhone or Android phone. So you can see the best Whitsunday holidays while youre traveling. Next time you surf this site on your mobile phone, youll view it in all its mobile glory!
May 2013

Nine Pine bowling Alley to open in Airlie Beach

Hugely popular in Europe the Kegeln nine bowling alley is expected to open in September, the first Kegeln in the Whitsundays opened on Hamilton Island last Year.

May 2013

Celebrities David Attenborough and Heide Klum Back Australias Best Job candidates

Australias best job in the World candidates were given two weeks to find influential celebrities to back their submission. The new campaign is modeled on hugely successful Best Job in the world, hosted here in the Whitsundays a few years back.

May 2013

Return to Paradise in the Whitsundays

Hamilton island the jewel of the Whitsundays has a secured a top line up of talented social media gurus for a Whitsunday instagram getaway weekend

May 2013

Unesco considers putting the Great Barrier Reef on the Endangered list

The Great Barrier Reef is recognized as one of the brightest jewels in the World Heritage crown.However due to coal port expansions north and south of the Whitsundays Unesco is considering action.