From us...
Whitsundays Guide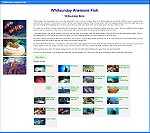 Did you know Sailing-Whitsundays has the most comprehensive online Guide to the Whitsundays ?
Sailing Whitsundays goes mobile
The best guide to the Whitsundays has launched a new mobile version for your iPhone or Android phone. So you can see the best Whitsunday holidays while youre traveling. Next time you surf this site on your mobile phone, youll view it in all its mobile glory!
Jul 2014

Sailor girl coming to Airlie Beach

THE girl who is best known through online channels as 'Adventures of a Sailor Girl', will be taking on another adventure when she attends the upcoming Vision Surveys Airlie Beach Race Week.

Jul 2014

A chance to insta-boost your Whitsunday business

INSTAGRAM users of the Whitsundays are called to unite next Tuesday for a free Instagram workshop and insta-meet at Coral Sea Resort from 2pm.

Jul 2014

New Zealand boat makes a century for Airlie Race Week

NEW Zealand boat Bullrush is the 100th entry to this year's Vision Surveys 25th Airlie Beach Race Week, from August 8-15.

Jul 2014

Hamilton Island withdraws from America's Cup

THE Hamilton Island Yacht Club (HIYC) has officially withdrawn as the challenger of record for the 35th America's Cup, citing costs of competing as the reason for their decision.