From us...
Whitsundays Guide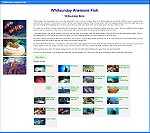 Did you know Sailing-Whitsundays has the most comprehensive online Guide to the Whitsundays ?
Sailing Whitsundays goes mobile
The best guide to the Whitsundays has launched a new mobile version for your iPhone or Android phone. So you can see the best Whitsunday holidays while youre traveling. Next time you surf this site on your mobile phone, youll view it in all its mobile glory!
Apr 2014

Whitsundays: Almost all booked out for Easter holidays

THE Whitsundays are preparing for a busy Easter period with solid bookings recorded across the region.

Apr 2014

Sun is shining in the Whitsundays

WEATHER UPDATE: The sun is shining in the Whitsundays today after Cyclone Ita passed the region last night.

Apr 2014

Bob Irwin coming to Airlie Beach for weekend rally

Residents from all walks of life will be joining together to rally for the reef this Sunday in Airlie Beach.

Apr 2014

Manpower coming back to Airlie Beach

AFFECTIONATELY known as the 'thunder from down under', Australia's Manpower are coming direct from Las Vegas to Airlie Beach tomorrow night.