From us...
Whitsundays Guide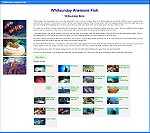 Did you know Sailing-Whitsundays has the most comprehensive online Guide to the Whitsundays ?
Sailing Whitsundays goes mobile
The best guide to the Whitsundays has launched a new mobile version for your iPhone or Android phone. So you can see the best Whitsunday holidays while youre traveling. Next time you surf this site on your mobile phone, youll view it in all its mobile glory!
Apr 2015

Anticipation rises for Wintermoon

THE Wintermoon team is putting the finishing touches on this years festival site in anticipation of the annual influx of music lovers.

Apr 2015

Big act to hit Airlie Beach stage

AIRLIE Beach Festival of Music organiser Gavin Butto Butlin is celebrating a major win with the signing of 10cc this week.

Apr 2015

Grand plans for Whitsundays Lindeman Island

CHINESE investors White Horse (Australia) Holdings Pty Ltd have announced bold new plans for Lindeman Island.

Apr 2015

Spirit to march on in Whitsundays

RECORD crowds are expected for this Saturdays Anzac centenary, especially the dawn services and marches in Proserpine and Airlie Beach.