From us...
Whitsundays Guide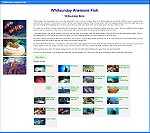 Did you know Sailing-Whitsundays has the most comprehensive online Guide to the Whitsundays ?
Sailing Whitsundays goes mobile
The best guide to the Whitsundays has launched a new mobile version for your iPhone or Android phone. So you can see the best Whitsunday holidays while youre traveling. Next time you surf this site on your mobile phone, youll view it in all its mobile glory!
Dec 2014

Whitsunday tourism operators tackle crown of thorns

THE notorious Crown of Thorns Starfish (COTS) could reach epidemic proportions in the Whitsundays if more is not done, according to findings made on a recent training trip.

Dec 2014

WWF: Abbot Point dredge spoil underestimated

AN ENVIRONMENTAL group has claimed it has scientific evidence showing the Abbot Point Port dredge spoil has been underestimated and sediment will flow back into the Great Barrier Reef.

Dec 2014

Turtle nests on Cannonvale Beach

ANYONE patrolling Cannonvale Beach would have seen an unusual sight on Sunday evening as a metre-long green turtle was spotted laying her eggs. The turtle captured the attention of many beach-goers, some inviting more people to witness the sacred sight.

Dec 2014

Christmas celebrations across the Whitsundays

SERIOUS preparations are underway throughout the Whitsundays as the clock ticks down to Christmas and locals and visitors decide where to celebrate this special time of year.