From us...
Whitsundays Guide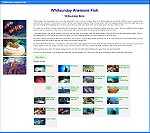 Did you know Sailing-Whitsundays has the most comprehensive online Guide to the Whitsundays ?
Sailing Whitsundays goes mobile
The best guide to the Whitsundays has launched a new mobile version for your iPhone or Android phone. So you can see the best Whitsunday holidays while youre traveling. Next time you surf this site on your mobile phone, youll view it in all its mobile glory!
Whitsundays Hostels
Sailing Whitsundays
Base Backpackers, Airlie Beach Whitsundays , from AU $28.00 pp
| | |
| --- | --- |
| | Set in 6 acres of lush tropical gardens in the heart of Airlie Beach, Base Backpackers is your direct access to the Whitsunday Islands and the Great Barrier Reef. Only 50 meters away from Airlie lagoon and a hop skip and a jump away from all the local shops, restaurants, cafe's and bars. Base could not be in a more perfect location and you pay hostel prices for great quality accommodation. |
Nomads Backpackers, Airlie Beach Whitsundays , from AU $26.00 pp
| | |
| --- | --- |
| | Before or after you sail around the Whitsunday Islands make sure you stay at Nomads Airlie Beach. Situated in the heart of Airlie Beach, opposite the swimming lagoon and beach, Nomads is no more than 50 metres away from all the facilities on offer making it the perfect place to stay to experience the Whitsundays. |
Magnums Backpackers Whitsundays , from AU $18.00 pp
No need for buses or taxis... you're right in the heart of Airlie Beach!


Magnums has been ranked one of Airlie Beach's most popular hostels among the backpacker community for nearly a decade thanks to its convenient location, outstanding pub and club, and unique cabin accommodation. You never need to worry about extra transportation fees because you are literally in the center of the vibrant town center. Unwind, relax and take in a good book in the calming surrounds or stroll in to the action of Airlie Beach!



| | |
| --- | --- |
| | OUR BOATING EXPERTS READY TO HELP YOU |
| | Based in Airlie Beach |
| | Can answer all your boat questions |
| | Our experts are all experienced locals |
| | We will build you exclusive packages to save you money |
| | Whitsundays biggest boat cooperative |






Jul 2014

Sailor girl coming to Airlie Beach

THE girl who is best known through online channels as 'Adventures of a Sailor Girl', will be taking on another adventure when she attends the upcoming Vision Surveys Airlie Beach Race Week.

Jul 2014

A chance to insta-boost your Whitsunday business

INSTAGRAM users of the Whitsundays are called to unite next Tuesday for a free Instagram workshop and insta-meet at Coral Sea Resort from 2pm.

Jul 2014

New Zealand boat makes a century for Airlie Race Week

NEW Zealand boat Bullrush is the 100th entry to this year's Vision Surveys 25th Airlie Beach Race Week, from August 8-15.

Jul 2014

Hamilton Island withdraws from America's Cup

THE Hamilton Island Yacht Club (HIYC) has officially withdrawn as the challenger of record for the 35th America's Cup, citing costs of competing as the reason for their decision.