From us...
Whitsundays Guide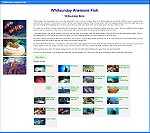 Did you know Sailing-Whitsundays has the most comprehensive online Guide to the Whitsundays ?
Sailing Whitsundays goes mobile
The best guide to the Whitsundays has launched a new mobile version for your iPhone or Android phone. So you can see the best Whitsunday holidays while youre traveling. Next time you surf this site on your mobile phone, youll view it in all its mobile glory!
Whitsundays Hostels
Sailing Whitsundays
Base Backpackers, Airlie Beach Whitsundays , from AU $28.00 pp
| | |
| --- | --- |
| | Set in 6 acres of lush tropical gardens in the heart of Airlie Beach, Base Backpackers is your direct access to the Whitsunday Islands and the Great Barrier Reef. Only 50 meters away from Airlie lagoon and a hop skip and a jump away from all the local shops, restaurants, cafe's and bars. Base could not be in a more perfect location and you pay hostel prices for great quality accommodation. |
Nomads Backpackers, Airlie Beach Whitsundays , from AU $26.00 pp
| | |
| --- | --- |
| | Before or after you sail around the Whitsunday Islands make sure you stay at Nomads Airlie Beach. Situated in the heart of Airlie Beach, opposite the swimming lagoon and beach, Nomads is no more than 50 metres away from all the facilities on offer making it the perfect place to stay to experience the Whitsundays. |
Magnums Backpackers Whitsundays , from AU $18.00 pp
No need for buses or taxis... you're right in the heart of Airlie Beach!


Magnums has been ranked one of Airlie Beach's most popular hostels among the backpacker community for nearly a decade thanks to its convenient location, outstanding pub and club, and unique cabin accommodation. You never need to worry about extra transportation fees because you are literally in the center of the vibrant town center. Unwind, relax and take in a good book in the calming surrounds or stroll in to the action of Airlie Beach!



| | |
| --- | --- |
| | OUR BOATING EXPERTS READY TO HELP YOU |
| | Based in Airlie Beach |
| | Can answer all your boat questions |
| | Our experts are all experienced locals |
| | We will build you exclusive packages to save you money |
| | Whitsundays biggest boat cooperative |
| | 提供廣東話及普通話翻譯服務的旅遊顧問 |
| | 提供广东话及普通话翻译服务的旅游顾问 |






Dec 2014

Free wi-fi at Whitsunday Coast Airport

FREE wi-fi will be available to everyone inside the terminal at Whitsunday Coast Airport. Mayor Jenny Whitney said she was pleased Whitsunday Regional Council was able to provide the service to passengers.

Dec 2014

Whitsunday Council donates money for NYE fireworks

WHITSUNDAY Regional Council has donated $8000 to four local events to conduct their fireworks displays.

Dec 2014

Hamilton Island launches competition to name the joey

THE first photos of Wild Life Hamilton Islands latest arrival, a female baby joey, have been released.

Dec 2014

Sweet success for the Whitsundays!

NINE Whitsunday tourism businesses were rewarded for their outstanding achievements and contribution to the Queensland tourism industry at the 2014 Queensland Tourism Awards held in Brisbane on Friday night.