From us...
Whitsundays Guide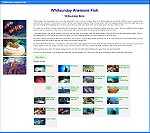 Did you know Sailing-Whitsundays has the most comprehensive online Guide to the Whitsundays ?
Sailing Whitsundays goes mobile
The best guide to the Whitsundays has launched a new mobile version for your iPhone or Android phone. So you can see the best Whitsunday holidays while youre traveling. Next time you surf this site on your mobile phone, youll view it in all its mobile glory!



| | |
| --- | --- |
| | OUR BOATING EXPERTS READY TO HELP YOU |
| | Based in Airlie Beach |
| | Can answer all your boat questions |
| | Our experts are all experienced locals |
| | We will build you exclusive packages to save you money |
| | Whitsundays biggest boat cooperative |
| | 提供廣東話及普通話翻譯服務的旅遊顧問 |
| | 提供广东话及普通话翻译服务的旅游顾问 |






Apr 2015

Report sightings to help Whitsundays koalas

OUR wildlife is an important part of what makes the Whitsundays such a magical place, but increasing habitation is having an impact on the health of our little critters.

Apr 2015

National honour for Cruise Whitsundays

CRUISE Whitsundays has come home from the Australian Tourism Awards in Adelaide with a bronze award.

Apr 2015

Morgan cares for wild Africa

A YOUNG woman raised on the Whitsunday waters will soon hit the nations television screens for the part she is playing in caring for rhinoceroses in the wilds of Africa.

Apr 2015

Romantic Whitsundays getaway leads to a big Yes

A BRITISH tourist had the ultimate weekend of romantic surprises, culminating in a marriage proposal at Reefworld recently.

Apr 2015

Go on an adventure at Whitsunday Writers Festival

ADVENTURE is the theme of this years Whitsunday Writers Festival, with two of the nations most inspirational authors now booked to share their incredible tales.

Apr 2015

Airlie Beach backs aqua parks which are set to be a drawcard

TWO new aqua parks have gained council approval to run six-month trials at Airlie Beach.