From us...
Whitsundays Guide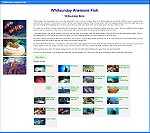 Did you know Sailing-Whitsundays has the most comprehensive online Guide to the Whitsundays ?
Sailing Whitsundays goes mobile
The best guide to the Whitsundays has launched a new mobile version for your iPhone or Android phone. So you can see the best Whitsunday holidays while youre traveling. Next time you surf this site on your mobile phone, youll view it in all its mobile glory!



| | |
| --- | --- |
| | OUR BOATING EXPERTS READY TO HELP YOU |
| | Based in Airlie Beach |
| | Can answer all your boat questions |
| | Our experts are all experienced locals |
| | We will build you exclusive packages to save you money |
| | Whitsundays biggest boat cooperative |
| | 提供廣東話及普通話翻譯服務的旅遊顧問 |
| | 提供广东话及普通话翻译服务的旅游顾问 |






Oct 2014

Al Grundy honored to be given the Whitsundays achievement award

An emotional Al Grundy responded WOW after being announced as the winner of ther Award for an Outstanding Contribution by an Individual at the Whitsunday Tourism and Business Awards on Saturday night.

Oct 2014

Wander in the Whitsundays

Off the main coastline sits 74 picturesque islands ready to be explored. Unspoilt national park lands and impressive luxury resorts.

Sep 2014

Government to promote Queensland tourism industry in China

LAST week's DestinationQ Forum heralded a new opportunity for further growth in the Whitsunday tourism market, with the state government announcing a new initiative prompoting Queensland to China.

Sep 2014

Qantaslink to start flying from Brisbane to Hamilton Island

QANTASLINK will soon fly direct from Brisbane to Hamilton Island. The news of Qantas' expanding travel network was announced on Monday, with flights between Queensland's capital and the holiday island to start from November 28.