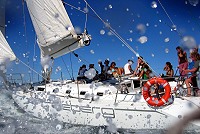 Low numbers, high speed and top value!


Iceberg takes you on a 2 day 1 night sailing experience around the Whitsunday Islands, offering you a high quality and personalized experience at an affordable price. This 52ft sports yacht sails with speed, but without compromising comfort and style. Taking out a maximum of only 12 guests, Iceberg provides an intimate and relaxing atmosphere perfect for couples or those wanting to get away from the large crowds. Over 2 days, your professional crew will take you to all the Whitsunday Island hot spots and unforgettable snorkel experiences.






Iceberg 2 days/1 night trip is independently owned, operated and skippered by brothers Luke & Tristram Mairs, who have both been sailing since the age of 7 and have 5 years Whitsunday charter experience. They know where all the hidden beauties are and how to get you there! Taking out a maximum of 12 passengers, Iceberg is able to access a number of pristine uncrowded snorkeling locations as well as hidden beachs. Whitehaven beach is the highlight of the Whitsundays and a prime destination of Iceberg's agenda. If want to experience the Whitsundays without the large crowds for 1 night then Iceberg is the perfect choice for you.

Iceberg features:
12 passengers creating a more personal experience
Join in on a real sailing experience on a fast modern boat
Fresh linen and bath towels provided for all guests
All meals freshly prepared onboard by your highly trained crew
Morning tea and afternoon tea
Tea and coffee
Wetsuit hire and snorkel gear provided for your convinience
Private cabin accommodation available



Iceberg offers spacious and comfortable accommodation for everyone, with 3 types to choose from:
Single share accom - single beds in shared /open plan area
Private double cabin - one double bed in a private cabin for 2 people to share
Private twin cabin - two single beds in a private cabin for 2 people to share
Relax or get involved

Choose to bask in the sun on the decks, or join the crew in hoisting the sails and preparing to sail. Kick back and read a book or splash into the sea for an exciting snorkel or swim. Iceberg will spend time at Whitehaven Beach, one of the top 10 beaches in the world and labeled as Queensland's Most Beautiful Beach. You will normally spend a full morning or afternoon enjoying the 7 kilometers of pure white silica sand, including a visit to the spectacular Hill Inlet lookout, where you will access a panoramic view of the beach. Your crew will take you for a short but fun bush-walk up to this look-out giving you insight into the region's local wildlife and history. From Hill Inlet, you will be able to capture postcard-perfect photos and depending on the tide, may even be able to spot sting rays and baby sharks with the naked eye!

The Whitsundays is a region that people visit not only for Whitehaven Beach, but for the spectacular fringing reefs. The remarkable reef systems infuse together some of the most spectacular corals, tropical fish and other interesting marine life. The islands offer protection from wind and waves, providing you with calm and comfortable areas to snorkel. Again, our crew will do their best to take you to uncrowded sites to give you a more exclusive experience!



SAMPLE MENU

Day One

Lunch: Roast chicken, potato salad a la Tristran, fresh green salad, and various sauces
Sunset snack: Hot spring rolls with various dipping sauces
Dinner: Beef stoganoff, roasted vegetables, rice
Morning & Afternoon Tea, Coffee, tea, milk, biscuits - served throughout the trip

Day Two

Breakfast: Freshly brewed coffee, tea, orange juice, muesli, cornflakes,
cocoa pops, milk, English muffins, a selection of spreads
Lunch: Deli sandwich rolls
Morning & Afternoon Tea, Coffee, tea, milk, biscuits - served throughout the trip
Please this is a sample of menu and is subject to change and amendments



BOOK WITH US TODAY! CALL 1800 550 751 OR (07) 4914 2425 IF LOCAL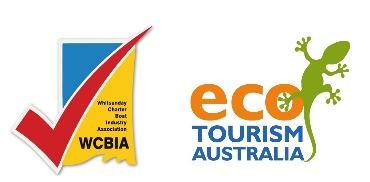 Please note:
Minimum age for children is 10+. Guests under 18 must be able to swim.
Guests under 18 cannot be booked into shared accommodation. (except where group will occupy an entire shared area). In other cases the parent need to occupy the shared area and child share private cabin with other parent)
SUITABILITY OF GUESTS.
Our sailing adventures are only suitable for active people. A basic level of fitness and mobility is required. As a guideline Guests should be able to climb a ladder easily.