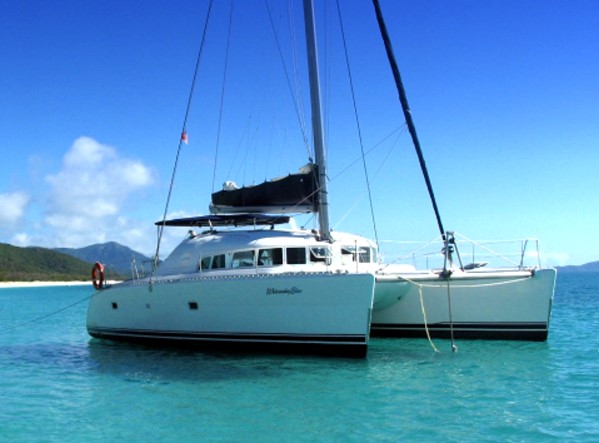 Add luxury, comfort and quality to your Whitsunday experience... and in style! (2 Nights)


Custom built in France for luxury charters, Whitsunday Blue offers a relaxing and comfortable environment with an intimate and romantic atmosphere. The spacious interior is comprised of four private cabins that are fully equipped with an en-suite and a DVD player, as well as a dining lounge. With ample deck space, permanently shaded areas, and foredeck nets, you will always find a place to retreat outside. You will be well looked after by a professional Skipper and very attentive hostess, who offer an exceptional quality of service. JUST IN: Now equipped with a clear kayak and an standup Paddle board!



---
Sail into paradise on board Whitsunday Blue and create some memories that will last you a life time! Taking out a maximum of 8 passengers, you are guaranteed a relaxed and intimate setting that is perfect for honeymooners and couples. Our experienced crew will take you to all the hot spots of the region, customizing the trip to suit your individual desires. Larger boats are unable to offer this unique personal treatment, but on Whitsunday Blue you are the most important decider in what your trip will consist of! Choose from fun activities such as snorkeling, bush-walking, and sailing... or sit back and relax, soak up the sun and let our crew take care of everything else.

Whitsunday Blue Features:
On board snorkel equipment and wet suits
All gourmet meals, freshly prepared on board
Fresh, clean linen and bath towels
Private ensuites with DVD players
Alfresco dining or air-conditioned saloon dining
BYO alcohol
Professional Skipper and hostess
Fully transparent tandem kayak
Also offers a 3 Day/3 Night Tour
For an unbeatable price , you can make your dream of luxury and romance in paradise come to life! Whitsunday Blue is a superb vessel where the emphasis is on service - it is all about you. This exclusive rate will not last much longer, so book now before it's too late!
---
74 Islands...a thousand choices!




As one of the worlds premier holiday destinations, the Whitsunday Island chain is regarded as a sailing paradise, mentioned in the same breath as such areas as the Caribbean and Mediterranean. The close proximity of the 74 islands provides endless shelter and snug overnight anchorages, so now a fast luxurious sailing boat is all you need to complete this picture. Welcome aboard Whitsunday Blue where your choices become our needs!

An array of experiences limited only by your imagination are possible each day aboard Whitsunday Blue. Sailing, swimming, snorkeling, sun baking, beach hopping, wining and dining are just a few of the activities offered for your choice. Another option is to visit well known Whitsunday Islands such as Hayman, Hamilton, Daydream or Club Med Lindeman and explore their collection of cocktails bars and pools. The spectacular fringing coral reefs provide world class snorkeling and are bursting with an abundance of marine and bird life. Sail the calm and pristine waters, enjoy protected anchorages and discover world famous Whitehaven beach with its 6 kilometers of almost pure silica sand. Realize this once in a lifetime memory with the backdrop of crystal blue waters surrounding lush green tropical islands and a breathtaking crimson sunset.

The Whitsunday Blue voyage was designed to be flexible so as to take in where possible the desires and wishes of our guests, and make the most of all the Whitsundays have to offer. No two trips are alike as we sail from one idyllic island hideaway to the next, and with no strict itinerary we endeavor to use your choices as our guide.

SNORKELLING
The Whitsunday Islands offer some of the most exquisite marine life and corals known to man. We want you to experience this underwater delight up close and personal. Thanks to the protection of the islands, we have a variety of protected bays that offer a diverse range of scenery with perfect conditions for all levels of snorkellers to choose from. If this is your first time, or you would like to know some tricks of the trade, our qualified crew are there to assist you and provide snorkel lessons. We also provide a range of snorkelling aids to make your experienced even more relaxing and comfortable!

WHITEHAVEN BEACH & HILL INLET LOOKOUT
These are two destinations we won't let you miss out on. It's is no surprise that Hill Inlet is the third most photographed place in Australia... you get a spectacular view of swirling white sands mixed with the aquamarine waters, the seven kilometer stretch of silica rich sands, and you can even spot marine life such as stingrays and baby sharks in the water beneath! One of your crew will take you for an insightful bush-walk, pointing out some Australian wildlife, to reach Hill Inlet Look-out. Once you've taken all your memorable photos, it's time to hit up the beach.

Once on Whitehaven Beach, it is up to you how you would like to enjoy your time. Take a stroll along the waterline while appreciating the softness of the sand on your feet, sunbathe in peace, wade through the water observing the marine life at the tips of your toes, it's up to you!

CLEAR KAYAKS
Whitsunday Blue's newest addition, the Molokini (an all-transparent 2 passenger kayak) has proved to be crowd favourite! The Molokini is made out of the same durable polycarbonate material used in the production of bulletproof glass and fighter jet canopies. Each kayak has a comfy gel lined seat that is fully adjustable to incorporate those with longer legs as well as those who fit well into smaller spaces. Tests performed with good visibility has proven that you can see the same coral that the snorkelers and scuba divers get to appreciate without getting your hair wet!

Encounters with turtles and tropical fish are also common. Experience the exhilarating thrill of the marine life taking a look right at you through the clear hull. Thinking you may be harboring a snack, many cheeky smaller fish come to investigate. If you're the person that doesn't want to get in the water and swim with the fish, then our clear kayaks are the perfect choice. Or maybe you fancy taking a closer look at the reef and fish with the freedom to discuss it immediately with your kayaking partner.

Your Boat Layout


Whitsunday Blue is a very spacious vessel. She has four private cabins (2 queen sized beds, 2 double sized beds) all with ensuites. The saloon will seat everyone for dinner or enjoy alfresco on the cockpit dining table. The large aft bimini offers substantial shade to hide away from the sun if you would prefer. The spacious lounging area on the foredeck has two huge comfortable nets to lounge around on whilst you soak up the Whitsunday sunshine.


Gourmet Cuisine

Below is an example of what we usually prepare. Occasionally we make minor changes to suit local availabilities of produce. At all times we guarantee the quality of our food and just know you will not be disappointed. Fresh fruit and cookies are always available and included throughout your trip and a range of soft drink refreshments are also available for a small price. We cater for all dietary requirements from vegetarian to gluten intolerant and we are happy to help with any special occasions aboard like birthdays and anniversaries. Here is a sample of what you can look forward to feasting upon while you cruise the beautiful Whitsundays aboard Whitsunday Blue...



Sample Menu

DAY ONE

Arrival: Tropical/seasonal fruit selection pineapple, rock melon, mango and kiwi fruit
Sunset snacks: Fine dips accompanied by crispy strip vegetables and savory flavored crudites
Dinner: Flamed barbecue Tuscan chicken served with a fresh Greek salad, lashings of Feta, sun-dried tomatoes and kalamata olives. Accompanied with oven baked crisp herb dinner rolls
Dessert: New York style cheese cake with berries and cream

DAY 2

Breakfast: Fresh fruit platter, Swiss muesli, cereals, warm croissants with banana bread
Morning Tea: Individual French pastries
Lunch: Superb smorgasbord including champagne leg ham, Waldorf salad, spinach and pine nut salad, traditional Greek salad with wholegrain and scotch rolls
Afternoon Tea: Mrs Fields fudge cookies and tea/coffee and hot chocolate Sunset snack: Antipasto platter
Dinner: Rib fillet topped with a delicious red wine mushroom gravy, served with potato gratin and steamed seasonal vegetables. Accompanied by cheese and herb ciabatta bread
Dessert: Chocolate cake or warm apple pie

DAY 3

Breakfast: Fresh fruit platter, Swiss muesli, cereals & pancakes with all the yummy toppings to with it. Served with tea, coffee and orange juice
Farewell meal: Antipasto platter with olives, sun-dried tomatoes, a variety of soft and hard cheeses and more




Not long enough in paradise? Why not make it a 3 night trip!

Whitsunday Blue also offers a 3 Day/3 Night Tour that departs at 4:30pm every Wednesday. Why not prolong your ultimate island escape?


BOOK WITH US TODAY! CALL 1800 550 751 OR (07) 4914 2425

ECO vessel? WHAT ECO ACCREDITATON MEANS WCBIA.? WHY CHOOSE WCBIA