From us...
Whitsundays Guide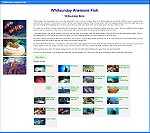 Did you know Sailing-Whitsundays has the most comprehensive online Guide to the Whitsundays ?
Sailing Whitsundays goes mobile
The best guide to the Whitsundays has launched a new mobile version for your iPhone or Android phone. So you can see the best Whitsunday holidays while youre traveling. Next time you surf this site on your mobile phone, youll view it in all its mobile glory!
Departs : -
Returns : -

| | |
| --- | --- |
| | BBQ |






| | |
| --- | --- |
| | OUR BOATING EXPERTS READY TO HELP YOU |
| | Based in Airlie Beach |
| | Can answer all your boat questions |
| | Our experts are all experienced locals |
| | We will build you exclusive packages to save you money |
| | Whitsundays biggest boat cooperative |
| | 提供廣東話及普通話翻譯服務的旅遊顧問 |
| | 提供广东话及普通话翻译服务的旅游顾问 |






Apr 2015

Whitsunday sailor to help on the high seas

WHILE the world ramps up its aid effort to the cyclone stricken nation of Vanuatu, one Whitsunday woman has decided to lend a hand under her own steam.

Mar 2015

Whitsunday Expo to reveal hidden talent

THE countdown is on for the Gloucester Hidden Talent Art Expo at Hydeaway Bay on the Easter weekend.

Mar 2015

Eco Barge educates about Whitsundays environment

EDUCATION is the most powerful weapon which you can use to change the world.

Mar 2015

Super band for Hamilton Island Race Week

ORGANISERS of the 2015 Hamilton Island Race Week have already excelled when it comes to the party scene, by engaging an amazing Superband to entertain competitors, their families and friends on the opening night, of Saturday, August 15.

Mar 2015

Plan to protect the Whitsundays

PRIME Minister Tony Abbott chose the Whitsundays for Saturdays historic release of the Reef 2050 Long Term Sustainability Plan.

Mar 2015

Whitsundays charity begins at home

PEOPLE wanting to help disadvantaged children at the Lirhanzo Childrens Village in southern Zimbabwe will now be able to make tax deductible donations thanks to the efforts of one Whitsunday woman and man.