From us...
Whitsundays Guide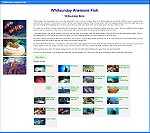 Did you know Sailing-Whitsundays has the most comprehensive online Guide to the Whitsundays ?
Sailing Whitsundays goes mobile
The best guide to the Whitsundays has launched a new mobile version for your iPhone or Android phone. So you can see the best Whitsunday holidays while youre traveling. Next time you surf this site on your mobile phone, youll view it in all its mobile glory!
You can contact a Boating Expert
Freecall 1800 550 751
Overseas customers + 61 74914 2425
Mon - Fri 8am to 6pm / Sat - Sun 9am to 4pm
Let us help you choose the very best boat at discount prices.
As locals we know the products well and can give advice as the best options available.
We can also find you great deals on accommodation, as well as booking your transfers.





| | |
| --- | --- |
| | OUR BOATING EXPERTS READY TO HELP YOU |
| | Based in Airlie Beach |
| | Can answer all your boat questions |
| | Our experts are all experienced locals |
| | We will build you exclusive packages to save you money |
| | Whitsundays biggest boat cooperative |






Jul 2014

Night of fashion and fun at Frocktails in The Whitsundays

LOCAL fashionistas will be able to enjoy the very best that Whitsunday fashion houses have to offer at Frocktails, on Friday, August 8.

Jul 2014

New arts and cultural centre for Airlie Beach

AIRLIE Beach is about to gain a new attraction with the Whitsunday Arts and Cultural Centre (WACC) set to open on Waterson Way next month.

Jul 2014

Gotye will be performing at the Whitsunday Reef Festival

THE Whitsunday Reef Festival, presented by True Blue Sailing is only three weeks away, and an amazing line-up has been announced for their massive Saturday night event, on August 2nd.

Jul 2014

Airlie Beach beauty is through to modelling final for 'Girlfriend'

WHEN 14-year-old Whitsunday Christian College student Tayla Stevenson went on a holiday to New South Wales last week, she had no idea she would end up as a state finalist for the 2014 Girlfriend Model Search.