From us...
Whitsundays Guide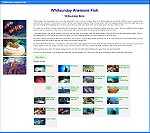 Did you know Sailing-Whitsundays has the most comprehensive online Guide to the Whitsundays ?
Sailing Whitsundays goes mobile
The best guide to the Whitsundays has launched a new mobile version for your iPhone or Android phone. So you can see the best Whitsunday holidays while youre traveling. Next time you surf this site on your mobile phone, youll view it in all its mobile glory!
Sailing Whitsundays

Sailing Whitsundays - Whitsundays sailing adventures in the Whitsundays and Airlie Beach. We offer day and overnight Whitsunday sailing and diving adventures amongst the 74 islands of the Whitsundays, Queensland, Australia. Sailing Whitsundays is original, updated daily and advertised prices will be honored. Call and ask about current discounts. Sailing-Whitsundays is a fully licensed Australian Travel Agent - TAC no. 3178713. Our Office is located in the Main street of Airlie Beach. We are here to help you both before and after your trip around the Whitsunday islands.

This tropical region is one of the most popular tourist destinations in Australia and for good reason. With endless stretches of sand, crystal clear seas and a perfect climate all year round, locations such as Airlie Beach and Hamilton Island are certainly paradise on earth. Of course, one of the best methods of exploring this region is to hire a boat, which is where we come in. We offer a range of Whitsundays cruises as well as simple boat charter so that you can go sailing around the islands. Whether you opt for one of our crewed vessels or a bareboat package, you will be pleasantly surprised by what the area will hold in store for you. Of course, if you do decide on staff for your hired boat, you will have more time to enjoy other activities such as scuba diving while the crew does the hard work of navigating and cooking for you and whoever else is travelling with you. This is one of the best ways to experience this sun-drenched group of islands, especially since our staff also act as tour guides and can direct you to the best beaches, hiking trails and dive spots in the region. For sailing holidays and boat charter, our Whitsundays cruises are some of the best in the industry and will provide you with a holiday that you certainly will not soon forget. Have a look over our site for more information on how to explore the area stylishly and conveniently.

Island Guides and Holiday Packages

We also offer you a myriad of other information about the Whitsundays right here on our website. From where to go to experience the most colourful coral reefs to where to stay while you are there, we can offer you everything that you need to know to plan out the perfect holiday before you even set foot out of your front door. Once you have arranged everything, all that you will need to do is step aboard your cruiser and then chart a course to your chosen destinations. Whether these are dive spots, isolated beaches, or island viewpoints is entirely up to you. We can also connect you up with other businesses in the area such as diving schools and beachside resorts. Our Whitsundays cruises consist of so much more than sailing and boat charter. They encompass all that there is to do in the region as we feel that visitors should be given the opportunity to experience all that these tropical islands can offer. If this sounds like the perfect holiday, have a look through our website for more details. To make your preparations go past even easier, we also host a great many vacation packages including accommodation, boat rental and other activities such as snorkelling and island tours. By booking one of these packages, you will ensure that everything will be taken care of for you while you are exploring the area. This is certainly a convenient way to arrange one of the best times of your life.

Sailing Whitsundays TOP SELLING OVERNIGHT TOURS:

Adventurer

2 Day, 2 Night
Clear Bottom Kayak
Heated Jacuzzi
Paddleboards RETAIL $499
NOW $445

Anaconda III

3 Day, 3 Night
GREAT BARRIER REEF
Air-Conditioned
Scuba Diving RETAIL $615
NOW $499

Powerplay

2 Day, 2 Night
Heated Jacuzzi Paddleboards
Fast Cruising RETAIL $499
NOW $445

Prima

2 Day, 2 Night
Private Cabin Comfort
Smaller Group
Best Value RETAIL$469
NOW $395

Whitsunday Blue

2 Day, 2 Night
Luxurious Getaway
Couple Friendly
Ensuite Cabins RETAIL $749
NOW $599

Whitsunday Getaway

2 Day, 2 Night
Deluxe Catamaran
Sail in Style QUEEN CABIN
ONLY $735

Any Day

Mon

Tue

Wed

Thu

Fri

Sat

Sun

Sailing Whitsundays favourite trips with PRIVATE cabins:

Waltzing Matilda

2 Day, 1 Night
Whitsunday Highlights Small Group Escape
Spacious Deck
Lookout and beach ONLY $380

Blizzard

2 Day, 2 Night
Spacious & Comfy
Ensuite Cabins
Great Crew RETAIL $499
NOW $465

Eureka II

2.5 Day, 2 Night
Modern Interior
Owned and Skippered by an Aussie Legend RETAIL $599
NOW $465

On Ice

2 Day, 2 Night
Sailing Catamaran
Latest Water Toys
Spacious Deck RETAIL $499
NOW $460

Solway Lass

3 Day, 3 Night
WHITSUNDAYS ONLY
OVERNIGHT TALLSHIP
Historic Adventure RETAIL $589
NOW $535

Iceberg

2 Day, 1 Night
Jam Packed Fun
Perfect if youre
Short on Time RETAIL $379
NOW $355

Backpacker favourites low cost Sailing 18-35s:

Habibi

2 Day, 2 Night
Whitsundays Best Value
Fun & Budget Friendly
Open Plan Dorms RETAIL $399
NOW $315

Siska

2 Day, 1 Night
Adventure Sailing
Great Value
Fast & Fun RETAIL $359 NOW $330

Ragamuffin

3 Day, 2 Night
Admirals Cup Racer
Action Packed
Smaller Group RETAIL $529
NOW $465

Tongarra

2 Day, 2 Night
Fun Filled Social 18-30
Sleep Under the Stars
Huge Deck RETAIL $384
NOW $349

SV Whitehaven

2 Day, 1 Night
Eco Sailing Safari
Explore Whitehaven
Kayak Tours
Delicious food. ONLY $380

Boomerang

2 Day, 2 Night
Thrill Seeking Vessel
Fast Sailing
Fun & Social RETAIL $449 NOW $395

Try a catamaran and enjoy a stable SAILING EXPERIENCE:

Outer Great Barrier Reef Adventure

OUTER REEF ESCAPE Snorkel. Dive. lounge
Visit Reefworld ONLY $230

Camira

Custom Built
NZ Catamaran
Snorkel & Sail
Open Bar ONLY $195

Whitsunday Adventurer

2 Day, 2 Night
Spa,12 guests RETAIL $499
NOW $445

Wings

Huge deckspace
Multiple awards
Suit 18 to 35 yrs
Onboard diving FROM $455

Whitsunday Blue

3 Day, 3 Night
Perfect for couples
looking for luxury RETAIL $895
NOW $775

Whitsunday Getaway

3 Day, 3 Night
Deluxe Queen Cabins
Sail In Style
Flexible itinerary
NOW $935

Sailing Whitsunday favourites with ONBOARD DIVING:

Anaconda III

3 Day, 3 Night
Onboard Scuba Diving Up to 6 Dives 1 FREE Scuba Experience RETAIL $615
NOW $499

New Horizon

2 Day, 2 Night
Action Packed Party
Paddleboard & Dive
NEW WATERSLIDE RETAIL $415
NOW $380

Emperors Wings

OUTER REEF
Airconditioned
Diving onboard
Large Heated Spa!
2.5 day trip ONLY $555

Summertime

3 Day, 2 Night
70FT Traditional Vessel
Jacuzzi & Kayaks
Dive Options 3 FULL DAYS FOR ONLY $586

Atlantic Clipper

2 Day, 2 Night
Party on The Ocean
Fun Heated Jacuzzi
NEW WATER SLIDE!
RETAIL $480
NOW $460

Kiana

3 Day, 2 Night
DIVE THE OUTER GREAT
BARRIER REEF
Air Con Interior 3 FULL DAYS FOR ONLY $699

Ask on our CHATLINE for the best deal:

Ise Pearl

3 Day, 2 Night
Traditional Pearling
Vessel in Excellent
Condition RETAIL $575
NOW $449

Silent Night

2 Day, 2 Night
Try Action Sailing!
Wide Flat Decks
Small Group ASK US ON CHAT FOR SPECIALS!

Apollo

3 Day, 2 Night
The Race Champion
Social Atmosphere
FREE SCUBA DIVE! RETAIL $544
NOW $449

Condor

2 Day, 2 Night
18-35 MAXIMUM FUN!
Hands-On Sailing
Racing Champion RETAIL $449
NOW $395

British Defender

2 Day, 2 Night
Backpacker hit!
Fast sailing!
Built in England. RETAIL $449 NOW $395

Hammer

2 Day, 1 Night
Fast 75ft Maxi Yacht!
Dive on Request
Huge Deck Area RETAIL $379
NOW $330

Sailing Whitsundays favourite DAY SAILING trips:

SV Domino

Intimate Day Sailing
Langford Reef
Deluxe Lunch ONLY $180

Derwent Hunter

Tallship Eco Adventure
Explore Langford Reef
Includes Lunch FROM $195

Southern Cross

Racing Cup Winner
Fun for All Ages
Includes Lunch ONLY $169

Whitehaven Xpress

3 Locations, 1 Day!
Restrooms onboard
Snorkelling! ONLY $175

Mantaray Charters

Best Snorkel & Dive Sites Beach Buffet Lunch Whitehaven Beach

ONLY $197

Camira

Sailing Catamaran
Visit Whitehaven Beach
Popular day tour! ONLY $195

Sailing Whitsundays ADVENTURE DAY TRIPS:

Heart Reef Scenic Flight

1 Hour Flight
SEE THE HIGHLIGHTS
ONLY $199

Skydiving

Adrenalin Filled Action Get a Birds Eye View of The Whitsundays

FROM $199

Big Fury

Whitsunday Highlights
Fast Paced Adventure
Whitehaven Beach ONLY $140

Fly N Cruise Package

Full Day at Whitehaven
1 Hour Reef Flight
Snorkeling FROM $329

Whitehaven Heli Tours

Fly Over & Spend Time
on Whitehaven Beach FROM $349

Tiger Moth Tours

Unique, Thrilling Ride
Affordable price! Must Pre Book! FROM $125

Sailing Whitsundays Exlusive PACKAGES:

Heart of the Whitsundays Package

2D/2N on GETAWAY
Heart Reef Flight
Resort Accommodation ONLY $1100

Reef and Whitehaven Adventure

1 Day at Reefworld
1 Day on CAMIRA
3 Nights Accom
1 layday inbetween
FROM $399

Sail and Stay in Style Package

2DAY / 2NIGHT
Sail: WHITSUNDAY BLUE
Stay: HAMILTON ISLAND
Return Ferry FROM $1010

Perfect Highlights Package

OCEAN RAFTING Trip
Heart Reef Scenic Flight
1/2 day Sea Kayaking
4.5 Star accom! ONLY $755

East Coast On A Shoestring

2D/2N Fun Sailing
3D/2N 4x4 Fraser
4 Nights Accom
Great Value! GREAT DEAL $779

Powerplay & Base Combo

2D/2N on POWERPLAY
4 Intro/Cert Dives
2 Nights at X Base
Snorkelling ONLY $465

Other great Whitsunday activities to do in Airlie Beach:

Wings Adventure Park

All-terrain Adventure!
Top Day Trip for all
Mud Pit Challenge ONLY $155pp

Standup Paddleboards

No experience needed
Half day tours
Join the trend! NOW $75pp

Sea Kayaking

Up Close And Personal
Turtles And Marine Life
in The Whitsundays FROM $80

Jet Ski Tours

NO EXPERIENCE NEEDED
Daydream Island
Fast & Fun Filled FROM $220 per ski

Whitsunday Fishing Charters

Top Fishing Spots
Half Day Charters
FROM $109pp

Ocean Rafting

Hill Inlet Vessel Access!
Jam Packed Trip
Includes Lunch ONLY $139

Sailing Whitsundays Accommodation Options:

Nomads Airlie Beach

Airconditioned Rooms
Melanesian-style
In the heart of Airlie FROM $26pp

Base Backpackers

Perfect Location
Range of accom styles
Great quality FROM $28pp

Whitsunday On The Beach

All about Location
Self-contained units
From $130pn

Coral Sea Resort

Absolute oceanfront
4 and a half star!
Family-friendly resort FROM $255pn

Hamilton Island Reef View Hotel

3rd Night is FREE
In the islands heart!
FROM $370pn

Waters Edge Resort

All-Style Rooms
Holiday in Paradise
Ultimate Oasis FROM $225pn



| | |
| --- | --- |
| | OUR BOATING EXPERTS READY TO HELP YOU |
| | Based in Airlie Beach |
| | Can answer all your boat questions |
| | Our experts are all experienced locals |
| | We will build you exclusive packages to save you money |
| | Whitsundays biggest boat cooperative |
| | 提供廣東話及普通話翻譯服務的旅遊顧問 |
| | 提供广东话及普通话翻译服务的旅游顾问 |






Apr 2015

Anticipation rises for Wintermoon

THE Wintermoon team is putting the finishing touches on this years festival site in anticipation of the annual influx of music lovers.

Apr 2015

Big act to hit Airlie Beach stage

AIRLIE Beach Festival of Music organiser Gavin Butto Butlin is celebrating a major win with the signing of 10cc this week.

Apr 2015

Grand plans for Whitsundays Lindeman Island

CHINESE investors White Horse (Australia) Holdings Pty Ltd have announced bold new plans for Lindeman Island.

Apr 2015

Spirit to march on in Whitsundays

RECORD crowds are expected for this Saturdays Anzac centenary, especially the dawn services and marches in Proserpine and Airlie Beach.

Apr 2015

Whitsundays luring more domestic, international tourists

New figures show a steady rise in the number of domestic and international visitors to the Whitsundays in north Queensland.

Apr 2015

Airlie Beach Chamber of Commerce hits 100

THE Airlie Beach Chamber of Commerce has welcomed its 100th member, well ahead of their end-of-year goal.